John G. Fister,
CRS, CRP, GRI
Cell: (859)533-8777
E-Mail: fisterre@iglou.com


Rector Hayden Realtors
998 Governors Lane #125
Lexington, KY 40513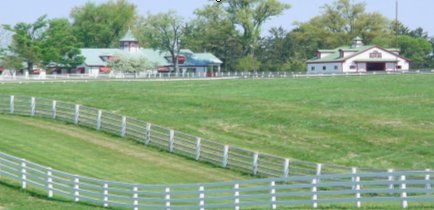 Fun for Kids
LEXINGTON, KENTUCKY, is a very special place to live. For example, some of the neighbors you'll meet here really do "neigh". That's because they are horses!
If you and your family drive into the countryside around Lexington, you're bound to see some horses. There are 400+/- horse farms here. The baby horses you'll see playing in the pastures may grow up to be famous race horses or blue-ribbon champions at horse shows.
Did you know that there are "wildcats" here too? These aren't wild animals though. They're ball players for the University of Kentucky. People who live in Lexington like to cheer for the Wildcats and they like to wear blue and white because those are the official team colors.
Horses and the "Cats" are two of the neatest things about living in Lexington. But there's a lot more to see and do here too!
Okay, What does Lexington have in common with a Revolutionary War battle?
Its name. Lexington was named for the Battle of Lexington. The battle took place on April 19, 1775 in Lexington, Massachusetts. It was the first battle of the Revolutionary War.
In 1775 the area that today is Lexington was just beginning to be settled. Battles were going on here too – between pioneers and the Indians who used Kentucky as a hunting ground.
Fayette County, where Lexington is located also has a name that comes from the Revolutionary War days. It was named in honor of Revolutionary War General Filbert Mortier de Lafayette.
Where is Lexington and what's it like to live here?
Lexington is located in the central part of Kentucky. It's the main city in a very pretty part of the state called the Bluegrass region.
Living in Lexington is like living in the city and the country at the same time. Lexington is Kentucky's second largest city. In downtown Lexington you'll see tall modern buildings. Just a few minutes away, by car, in every direction you'll find farms with rolling pastures marked off with wood or stone fences. Some of the beautiful houses on these farms were built before the Civil War.
Is the grass really blue in the Bluegrass?
The short answer is NO but do you know why it is called bluegrass and why this is the center of Bluegrass Country?
The long answer is that there are several explanations for the origin of the name bluegrass. Some of the most popular explanations are as follows:
When the early morning sun shines across a field of the native Kentucky grass (Kentucky Bluegrass) and reflects off the early morning dew or winter frost it often has a bluish tint in the reflection.

In the early spring this fine Kentucky Bluegrass, unlike most grasses, sports a small blue flower of short duration. Early settlers naturally coined the name Bluegrass as they observed the bluish hue when bluegrass fields were in bloom. Prior to them it was probably called green grass.

Native Americans in Kentucky often used the fine blades of grass as signaling devices. When you place a blade of this grass in the gap between your thumbs (when both thumbs are pressed side by side) and you blow through this gap, it makes a piercing high pitched sound that may be heard for a great distance. When the native Americans explained that they blew grass it was translated into today's Bluegrass.
THERE'S A LOT TO SEE AND DO IN LEXINGTON!
If you play a musical instrument, you may want to try out for the Central Kentucky Youth Orchestras located at 161 N. Mill Street. Most of the musicians in the two orchestras are in junior and senior high school. Their concerts, usually five a year, are divided between the UK Center for the Arts (free admission) and the Opera house (minimal charge). 254-0796. There is also the Music Institute of Lexington offering instruction to students of all ages. 1321 Trent Blvd, #6. 273-9991.
The Lexington Ballet Company performs "The Nutcracker" every year. It's a ballet about a young girl's special Christmas dream. The company performs other ballets and has its own dance school for ages 3 and up. 233-3925.
Lexington Children's Theatre performs eight different children's plays each year. You can get in on the act too, the theater company gives drama lessons for ages 4-18. There is an acting company for teens (7-12th grade, by audition). 254-4546.
Something creative is always going on at the (www.lasclex.org) Living Arts and science Center . You can learn to make a kite, draw cartoons, make clay sculptures – check the current schedule to see what's being offered. There are classes year-round for ages 18 months and up, and there are special programs for special populations. You can also visit the Center to see changing art and science exhibits. The Center is located at 362 N. M.L. King Blvd. 252-5222
The Lexington Children's Museum at Victorian Square, 440 W. Short Street in downtown Lexington believes that children learn best by doing. There you can experiment, explore, touch, handle and discover wonderful exhibits. It's open most days of the year. 258-3253
There are many other theatre and musical groups in Lexington for all ages to enjoy. Often there are free concerts and recitals at Artsplace 161 North Mill Street. The UK Center for the Arts at Rose and Euclid Streets and LexArts formally The Lexington Arts and Cultural Council can tell you about the current schedule. 255-2951
DOWNTOWN LEXINGTON
You and your family can take a quick tour of downtown Lexington by riding a trolley. These special buses look like old fashioned trolley cars. They run Monday through Friday. The route they travel is a "loop" formed by Vine Street, Woodland Avenue, Main Street and Felix and Spring Streets. There is a nominal charge. Here are some of the things you'll pass on the trolley ride. You may want to get off and explore them. Rupp Arena is located between High and Main Streets and is where the UK Wildcat basketball team plays its home games. Rock concerts and special events such as rodeos and tractor pulls are also held in Rupp Arena. The arena was named for a famous UK basketball coach named Adolph Rupp. Triangle Park is located at Main Street and Broadway. There is a 300 foot long fountain that looks like a wall of steps with water flowing over them. The fountain is lighted at night. A block of buildings called Victorian Square (on Broadway between Main and Short Streets) will give you an idea of what Lexington looked like in the 1800's. Recently these old buildings were fixed up to hold shops and restaurants. Across Broadway from Victorian Square is Triangle Center with restaurants where you can buy good things to eat.
FAYETTE COUNTY COURTHOUSE
Why is there a statue of a camel on the grounds of the courthouse? Because this statue was originally built to be the starting point for measuring distances from Lexington. Around the courthouse you will also see a statue of a Civil War general who lived in Lexington and a drinking fountain with statues of children. The sculptor used Lexington children as models. On top of the courthouse is a weathervane showing a horse. You may even see some real horses in downtown Lexington. The Lexington Police Department has a mounted patrol unit.
HORSING AROUND
The (www.kyhorsepark.com) Kentucky Horse Park is a special park all about horses. You can tour a horse museum, watch blacksmiths work, take a horse-drawn carriage ride and meet some famous race horses who have retired to the park's "Hall of Champions". Spring through summer there are polo matches and other special horse shows on weekends and during the summer months. These include the Three-Day Event and High Hope Steeplechase. The park is located on Ironworks Pike. It's open year-round; days and times vary according to the season. Admission charged. 233-4303.
The American Saddle Horse Museum is also located at the Kentucky Horse Park. At this museum you can learn about the American Saddlebred horse, which is a special kind of horse breed and developed right here in Kentucky. Saddlebreds are the pretty horses you see competing at horse shows. They're fun to ride but aren't racehorses. Admission charged to the museum. 259-2746.
In July, Lexington is host to a very big saddle horse show called the Junior League Horse Show. This is a national championship where you can see some of the very best horses from all over the United States and Canada. When Lexington was first founded there was horse racing on downtown streets. This got to be kind of dangerous for pedestrians so now the racing is done at the tracks. 252-1893.
Keeneland Race Course on Versailles Road has thoroughbred races in April and October. If you go early in the morning (about 8:00 a.m.) you can watch the horses practice and have breakfast in the dining room. 254-3412.
Standardbred horses race at The Red Mile Trotting Track, 1200 Red Mile Road, in spring and fall. Instead of being ridden by a jockey, these horses pull two-wheeled carts called sulkies in which the drivers sit. This track was opened in 1875; that makes it the oldest harness racing track in the country. 255-0752.
Horse farms in the area are not open to the public, but you can see plenty of horses by taking a drive in the country. Roads where some of the prettiest farms are located are Paris Pike and Old Frankfort Pike.
Would you like to do some horseback riding yourself? In summer months, you can ride horses or ponies at the Kentucky Horse Park, 233-4303. (www.kyhorsepark.com)).
In the summer, Midway College near Lexington has a riding camp for ages 5 to adult. 846-5775. Lexingtonky.gov (Lexington Parks Dept.) also offers riding lessons through their equestrian office. 288-2900.
Lexington Livery Company gives horse-drawn carriage tours of Lexington. 259-0000.
MUSEUMS AND HISTORIC PLACES
Henry Clay was a U.S. Senator and famous lawyer who lived in Lexington. You can tour (www.henryclay.org) Ashland, the Clay family estate and learn about him. Admission charged. Richmond Road at Sycamore Road. Special children's tours are given twice a month. 266-8581.
During the Civil War, Union soldiers camped in Gratz Park, located at Third and Mill Streets. The neighborhood around this park is an "historic district". There are many pretty homes where some leading citizens of early Lexington lived. You can tour the (www.bluegrasstrust.org) Hunt-Morgan House, 201 North Mill Street. This was the home of John Hunt Morgan, a Confederate general who led many sneaky raids against Union troops during the Civil War. Tours are given Tuesdays through Sundays. 233-3290. Admission is charged.
(www.transy.edu) Transylvania University, AT Third Street and Broadway is the oldest university west of the Allegheny Mountains – it was started in 1780. Its students included Jefferson Davis (President of the Confederacy), Stephen Austin (who helped found Texas) and two vice presidents. At Third Street and Broadway there is also a small log cabin. This belonged to one of Lexington's founders, Colonel Robert Patterson. 233-8120.
Do you like seashells? So did George Headley, a Lexington artist who started the (www.headley-whitney.org) Headley-Whitney Museum, 4435 Old Frankfort Pike. This museum features a "Shell Grotto" with furniture, lamps and other things made of shells. Another special feature is the "jewel room", where you can see some interesting objects Mr. Headley made using gems. For example, there's a gem sculpture showing the first moon walk. Open Tuesdays through Sundays. Admission charged. 255-6653.
Mary Todd was a little girl who lived in Lexington in the 1830's. When she grew up she married President Abraham Lincoln and became the First Lady of the United States. (www.mtlhouse.org) The Mary Todd Lincoln House, 578 West Main Street, where she lived is open for tours daily mid March through November 30th. Admission charged. 233-9999.
PARKS AND RECREATION
Lexington has 100 "neighborhood parks". These have playground equipment and some have tennis courts and swimming pools. In the summer, (www.lexingtonky.gov) The Lexington Parks Department plans games and activities at 46 of these parks. To find out which park is closest to your home call 288-2900.
Lexington has three larger parks with other special attractions. Jacobson Park is located at the intersection of Richmond Road and Old Richmond Road. This park has a lake for fishing. April through October you can rent a paddleboat. In the summer there's a day camp for ages 6 – 12. Open year-round, from dawn to dark daily. In the winter this is a good place to go sledding.
Masterson Station Park is located on Leestown Road. This park offers soccer fields and horse riding lessons. (Ages 10 and up can learn to ride horses in this large park year-round.) In the winter, this is a good place to go cross-country skiing. Open year-round from dawn to dark daily.
Shillito Park is located on Reynolds Road. There are ball fields and 13 lighted tennis courts. There is also a special fitness trail that is 1 ¾ miles long. Along this trail are 18 "exercise stations" where signs show you a specific exercise to do. Open year-round, dawn to dark daily.
(www.lexingtonky.gov) Raven Run Nature Sanctuary is located on Jack's Creek Pike near the Kentucky River. This is a good place to go hiking. On your hike you'll see streams, meadows, things used by early settlers and in the spring unusual wildflowers. There are guided bird and nature walks. Open seven days a week; hours will vary depending on the season of the year. 272-2384.
September through May there are after school activities at seven community centers. The activities include arts and crafts, clubs and games. The activities start at 5:00 p.m. These centers are Castlewood on Bryan Avenue; Charles Young on Third Street; Dunbar on Upper Street; Gainesway on the Tates Creek Campus and Kenwick on Owsley Avenue.
SPECIFIC SPORTS AND ACTIVITIES
(www.lexingtonky.gov) Parks & Recreations 288-2900
Baseball – There are many leagues for boys and girls ages 5-14, including T-Ball and Little League. Sign-ups are held in the spring and fall. The Parks Department can help you find a league that's right for you. 288-2900.
Basketball – Sign-ups for Parks Department leagues are usually in November. There are leagues for boys and girls 7-15. 288-2900. In the summer, you can attend some basketball camps. The University of Kentucky Wildcat Basketball Camp is for boys 9-19. 247-1916.
The women's basketball camp for girls 9-18. 257-6046. Transylvania University has a basketball camp for boys and girls 7-18 and all sports camp for ages 7-13. 233-8202.
Bowling – Special leagues for handicapped children are offered by the Parks Department. Here are some bowling lanes where there are leagues or you can go bowling with your family:
Collins Bowling Center, 750 New Circle Road. 252-3429.

Joyland Bowl, 2361 Paris Pike. 293-0529.

Southland Bowling Lanes, 205 Southland Drive. 277-5746.

The Stadium, 412 Sporting Ct. 296-6549.
Golf and miniature golf – In the summer, the Parks Department sponsors Junior Golf Clinics for ages 8-17. 288-2900. You can play golf at:
Meadowbrook Golf Course, Wilson Downing Rd. Open March through October. This is a good place for beginners to play. 272-3115.

Tates Creek Golf Course, at the end of Gainesway Drive. Open all year. 272-3428.
There are several other golf courses open to the public also. Miniature golf courses usually open in March and close in the fall. These are:
Lexington Ice Center & Sports Complex, 560 Eureka Springs Dr. 269-5681.

Joyland Miniature Golf, 2361 Paris Pike. 293-0529.

White Haven Golf, 100 Yorkshire Blvd. 263-5310.
Youth Football (Tackle) – Registration and practice is August thru November. (Ages 7-12) 6 games are played. Call Parks and Recreation. 288-2900.
Girls Softball – Slow-pitch is April thru July (girls ages 7-12) there are also Pee Wee and Pony Tail leagues. Fast-Pitch is April thru August for girls ages 10-14. Call Parks and Recreation. 288-2900.
Volleyball – Offered June thru July. (4 teams of middle school and high school students) For more information call Parks and Recreation. 288-2920.
Cheerleading – Offered August thru November (Boys and girls ages 7-12). This program is offered in conjunction with the football program. Call Parks and Recreation. 288-2900.
Tumbling and Dance – Students in kindergarten through grade 6 can take lessons after school. These Parks Department lessons begin in September. 288-2900.
Gym Classes:
These gyms also offer cheerleading and classes kids and parents can take together.
Ice Skating – (www.lexingtonicecenter.com) The Lexington Ice Center & Sports Complex, 560 Eureka Springs Drive has several skating sessions daily. There are also hocky instruction classes and classes in figure skating. 269-5686.
Roller Skating – (www.champskate.com) Champ's Rollerdome is located at 2555 Palumbo Drive There are skating sessions on Wednesdays, Fridays, Saturdays and Sundays. 268-3888.
Soccer – (www.lysa.org/) The Lexington Youth Soccer Association has leagues in spring and fall for ages 6 and up. Both boys and girls can play. Write P.O. Box 24988, Lexington, KY 40524 or call 223-5632.
Swimming – Pools open Memorial Day weekend and usually close when school starts in late August.
Olympic size pools are located:
Berry Hill Park, Buckhorn Drive off Man O'War

Constitution Park behind Northern Elementary School off Paris Pike

Douglas Park on Georgetown Road

Shillito Park on Reynolds Road
These larger pools have diving areas and rooms where you can change into your swimsuit. If you are 12 or younger you must come with someone 16 or over.
Neighborhood pools are located at:
Dixie Park on Eastland Parkway

Garden Springs Park on Garden Springs Drive

Valley Park on Cambridge Drive
No diving is allowed at these pools and you should wear your bathing suit to the pool. If you are 10 or younger you must come with an older child or adult.
Season swimming passes are available for children and families. The Parks Department gives lessons in swimming, lifesaving, water polo and water ballet. You can join a neighborhood swim team. Good swimmers under 13 can attend an Aquatics Day Camp where you will even learn how to snorkel. 288-2900.
Tennis – (www.ltctennis.com) The Lexington Tennis Club is a great facility located at 410 Redding Rd. 272-4546.
Shillito Park has the most tennis courts of any park in Lexington. There are 13 lighted courts. To use these courts after 5:00 P.M. or on weekends you must make a reservation by calling 223-5709. At other times and at courts in other Lexington parks, it's first come, first serve. There's no charge to use the courts.
There are 25 other parks with tennis courts. To find out which courts are nearest to your home call 288-2900. In the summer there are lessons and teams for all ages.
(www.ymcaofcentralky.org) YMCA of Central KY – You must join this association to use the facilities. The YMCA has an indoor swimming pool, indoor jogging tracks, exercise and weight lifting equipment and racquetball courts. Many classes are offered for youths and adults. There are also before and after school daycare programs available.
There are four locations:
239 East High Street. 254-9622.

560 Eureka Springs Drive. 266-9622.

3250 Beaumont Center Circle. 219-9622.

381 Loudon Avenue. 258-9622.
YWCA of Lexington – This is another membership association. There are indoor and outdoor swimming pools, exercise and weight lifting equipment and tennis courts. There are classes in swimming and exercise. There are after school programs for ages 6-13 so you won't have to stay home alone if your parents work. The YWCA is located at 1060 Cross Keys Road. 276-4457.

NOT TOO FAR FROM HOME ….
Get out a map of Kentucky and look for these interesting places. They are all within a two hour drive from Lexington.
See how pioneers lived in (www.harrodsburgky.com) Harrodsburg. Old Fort Harrod is a replica of the fort built here in 1774. In the summer you can watch a play in an outdoor theater. The play is called Legend of Daniel Boone.
Visit Kentucky's state capital in (www.visitfrankfort.com) Frankfort. In the Capitol building you can learn how Kentucky laws are made. There are also statues of famous Kentuckians, including Henry Clay (who lived in Lexington); Alben Barkley; and Colonel Harland Sanders (who invented Kentucky Fried Chicken). If you like dolls, you'll want to see the Kentucky First Lady doll collection. On the lawn of the Capitol, there is a clock with a 34 foot face made entirely of flowers and plants. Other things to do in Frankfort; visit military and costume museums and tour a distillery where bourbon is made.
See where a Civil War battle was fought in (www.battleofperryville.com) . Perryville. Union and Perryville Battlefield and find out. In October, troops wearing authentic Civil War uniforms act out the battle.
See how the "Shakers" lived at (www.shakervillageky.org) Shaker Village at Pleasant Hill. This is an entire village restored to look the way it did in the 1800's. The "Shakers" lived very differently than we do today. Their buildings had separate doors and staircases for men and women. They hung their chairs on pegs on the wall (so sweeping the floors would be easy). They made almost everything they needed to live. You can tour the buildings, take hors drawn wagon rides and see how crafts such as quilts and brooms were made. Spring through fall you can board the Dixie Belle paddlewheel for a boat ride on the Kentucky River.
Catch a "Moonbow" at (www.parks.ky.gov) Cumberland Falls State Resort Park near Corbin. A moonbow is a nighttime rainbow. To see it, there must be a full moon and a clear sky. There are only two moonbows in the world (the other one is in Africa). Seeing Cumberland Falls in the daytime is fun too, because it's a second largest waterfall in the United States.
Test your knowledge of "Derby Trivia" in Louisville. At the (www.derbymuseum.org/) Kentucky Derby Museum you can find out what it feels like to sit in the starting gate. You can play the computerized trivia game. A slide and music show shown on a huge oval shaped screen shows you what Kentucky Derby Day is like. The museum is at Churchill Downs, where the Kentucky Derby is run the first Saturday of May. It's one of the most famous horse races in the world. Other things to do in Louisville; visit the Louisville Zoo and explore a miniature coal mine at the Museum of Natural History and Science.
Learn to ski at (www.lexingtonky.gov) General Butler State Resort Park near Carrollton. Ski Butler has special lessons for kids and easy slopes for beginners.
Cross some unusual bridges at (www.lexingtonky.gov) Natural Bridge State Resort Park near Slade. The bridges are giant rock arches. Red River Gorge is a good place to go hiking. The park is especially pretty in the autumn when the leaves are changing color.
These are just a few of the things to see and do near Lexington. Here's where you can find out about others; (www.visitlex.com) Greater Lexington Convention and Visitors Bureau, 301 East Vine Street. 233-1221.
Kentucky's state parks include campgrounds, playgrounds, lakes for fishing and boating, and trails for hiking. Some of the parks have lodges where you can stay overnight, golf courses and tennis courts.


JOIN UP!
These clubs are just for kids:
(www.bgbsa.org) Blue Grass Council of the Boy Scouts of America – 415 N. Broadway. 231-7811. Scouting activities for ages 6-18.

4-H – 1140 Red Mile Place. 257-5582. Projects and special interest clubs for ages 9-19. Every year there is a 4-H summer camp.

(www.volunteersolutions.org/uwbg/org/224396.html) Junior Achievement of the Bluegrass – 711 Millpond Rd. 219-2423. Grades K-12 can learn about business; high school students can learn to operate their own company.

(www.gswrc.org/) Wilderness Road Girl Scout Council – 2277 Executive Drive. 293-2621. Scouting activities for ages 5-17.
These hobby and special interest clubs are for you and a parent or your whole family to join:
(www.kyham.net) Bluegrass Amateur Radio Society. For people interested in being a "ham" radio operator.

Bluegrass Astronomical Society. For people interested in astronomy. 278-6155.

(www.lexingtonkennelclub.com/) Lexington Kennel Club. For owners of purebred dogs. The club sponsors shows and classes that teach you how to train and show your dog. 335-5777.

Lexington Striders Walking Club. A club designed to help people enjoy walking as exercise. Sponsored by the Lexington Parks Dept. 288-2900.

(www.freewebs.com/ring198/) Thoroughbred Magic Guild. Learn how to do magic tricks and watch other magicians perform. 885-4600.
LEARN ALL ABOUT IT …
School begins in late August in Lexington and usually meets through the end of May. 1st through 5th grades attend elementary schools; 6th through 8th graders attend middle schools; and 9th through 12th graders attend senior high schools.
If you live more than a mile from school, you will ride a bus. There are plenty of school activities for you to get involved in. These include sports teams, art and music programs and subject and hobby clubs.
Some Lexington kids attend private schools. This means their parents pay tuition for them to attend. Lexington's private schools include some that are associated with Catholic, Baptist and Christian churches. One private school, (www.sayreschool.org) Sayre School, was founded in 1854 and has an exhibit showing what classrooms looked like in the 1800's.
READ ALL ABOUT IT …
At the (www.lexpublib.org) Lexington Public Library, you can borrow books, magazines, records, tapes and pictures to hang in your room and even videotapes. There are special story hours and movies for children. In the Summer Reading Program you can earn prizes if you read a lot of books.
The Central Library is located at 140 East Main Street. The children's department phone number is 231-5560. You can contact the Central Library to find out about branches. Your mom and dad will need to sign a permission slip for you to get a library card. The library also has a special information number – 231-5520. The library workers who answer this phone will try to help you find the answer to just about any question. No fair trying to get them to do your homework for you.
MORE KIDSTUFF
Here are some other things in Lexington we thought you'd enjoy knowing about:
Kentucky's largest bookstore is located in Lexington! (www.josephbeth.com) Joseph Beth Booksellers, in The Mall at Lexington Green, has a tremendous selection of books on any subject – especially those for children. 273-2911.

There is also a (http://barnesandnoble.com/) Barnes & Noble Bookstore at Hamburg Pavillion. 543-8518.

Don't let the name fool you, The Parent-Teacher Store is really a great place for kids to visit. The store carries books, games and school and art supplies. 3301 Keithshire Way, Suite #109. 277-3555.

If you like to collect baseball cards and comic books, you may want to visit Baseball Card Warehouse, Clays Mill Shopping Center on Clays Mill Rd. 3323 Partner Place. 223-7116.

Stores that repair bicycles are:

Dodds Cyclery, 1985 Harrodsburg Rd. 277-6013

Schellers Fitness & Cycling, 212 Woodland Ave. 233-1764

Pedal Power, 401 South Upper St. 255-6408

At (www.chuckecheese.com/) Chuck E. Cheese's, 1555 New Circle Road NE. You can play games or be entertained by special animated characters while you wait for your food. 268-1800.

Candy Companies:
(www.sharpscandies.com/) Sharp's Candies, 2021 Regency Rd. 276-4625.

(www.oldkycandy.com) Old Kentucky Chocolates, 450 Southland Dr . 278-4444.

(www.ruthhuntcandy.com) Ruth Hunt Candies, 2313 Woodhill Dr. 268-1559.
Did you know that Central Kentucky has its own soft drink? (www.ale-8-one.com) Ale-8-1 is made in Winchester, near Lexington and is sold in many stores and vending machines around town. 744-3484.
Lexington's toy stores:
The Toy Shop at Lexington Center, 410 W. Vine, Suite 255. 455-8777.

Toys "R" Us, 3220 Nicholasville Rd. 271-6374

Funcoland, Hamburg Pavillion. 543-8443 and Crossroads Plaza. 971-1100
MISCELLANEOUS
Before there were bridges, people rode ferryboats across rivers. You can take a ferry ride across the Kentucky River at Valley View Ferry, located at the very end of Tates Creek Road. This ferry boat operation is one of the very oldest businesses in the state of Kentucky – dating back to the late 1700's. The ferry operates all year except for Christmas and when there's high water. The ride takes three minutes and costs $2.00.
Why is there a castle on Versailles Road? A Lexington man started building it many years ago in the 1970's after he and his wife returned from touring castles in Europe. There was a large compound with spacious "living quarters" built in the center of the castle's courtyard. The castle has never been completely finished but now has a new owner who plans to finish "The Castle" and share it with others. The castle is located a few miles West of Keeneland. You may drive by, stop and take photos but NO VISITORS allowed.